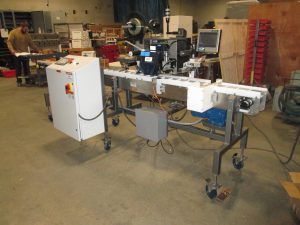 The Challenge
Candy bars are a timeless staple of American family life. It doesn't matter if you prefer crispy toffee centers, crunchy almonds, or warm caramel: these sugary snacks bring families together, whether it's a grandparent sharing an old favorite with their grandkids, a nice treat at a company meeting, or a tasty Halloween surprise.
Candy bar production, though, can be a far thornier process. Candy manufacturers must vigilantly ensure that each type of bar is wrapped accurately, every time. Mistakes are not acceptable — not simply because of people's differing tastes, but because food allergies to common candy bar ingredients, such as peanuts, mean that the slightest errors can result in deadly consequences.
So, when a company approached Wrabacon about producing a manual system to inspect, label, and wrap multiple types of candy s, absolute precision and accuracy were major requirements.
The Wrabacon Solution
Making candy bars isn't as easy as eating them. To make it happen, Wrabacon custom designed and manufactured a conveyer system that brought this manual bar loading concept to life. As conceived, the first step involves the manual loading of the bars onto a conveyer, whereupon they are labeled, and then scanned — the latter process ensuring that the correct label is on each bar.
Here's how it works: the filled envelopes are placed onto a continuous motion, flighted conveyer. As they move down the belt, the package's "fin" is folded over — and held in position — as the labeler precisely places a label onto its center. Note, this is the reason for implementing a variable speed conveyer, as it uses a shaft encoder to determine the proper time to activate the labeler.
From here, a bar code scanner reads the package's code, in order to compare it to the selected bar code. There will be 12 bar codes in all, the string of each one programmed into the pic, and visible on the HMI. At this point, if the code doesn't match, it will safely be rejected from the line, and deposited into a customer supplied bin. If it does match, that's good — it means the bar can continue traveling downstream, where it will be manually removed from the system.
Note that, prior to starting up the system, the operator will select the correct label/bar code. The selected code, then, will be compared to the actual code that is later read by the scanner. In the end, this streamlines the process, eliminates the margin of error, and ensures the best, safest product.
Wrabacon manufactured and supplied the following equipment for this project:
Continuous motion, variable speed flighted conveyer belt
Fin folder
Reject mechanism
A set of controls/programming
System integration at Wrabacon
As far as specifications, this system is general duty, with a stainless-steel bed. View Specifications