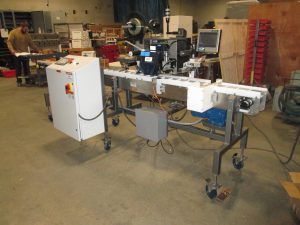 The Challenge
Candy bars are a timeless staple of American family life. It doesn't matter if you prefer crispy toffee centers, crunchy almonds, or warm caramel: these sugary snacks bring families together, whether it's a grandparent sharing an old favorite with their grandkids, a nice treat at a company meeting, or a tasty Halloween surprise.
Candy bar production, though, can be a far thornier process. Candy manufacturers must vigilantly ensure that each type of bar is wrapped accurately, every time. Mistakes are not acceptable — not simply because of people's differing tastes, but because food allergies to common candy bar ingredients, such as peanuts, mean that the slightest errors can result in deadly consequences.
So, when a company approached Wrabacon about producing a manual system to inspect, label, and wrap multiple types of candy s, absolute precision and accuracy were major requirements.