Tray Handling Systems
Tray Handling that Combines Versatility, Convenience, and Power
---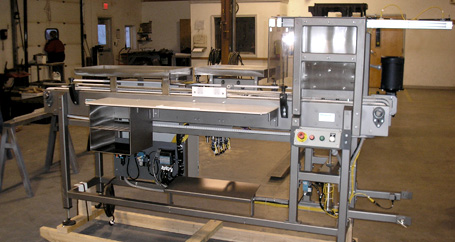 ---
Get More Done with Creative Automation
Introduce Your Business to the Productivity that Promotes Growth
Wrabacon Incorporated is an industry leader when it comes to delivering powerfully flexible creative automation solutions for businesses of every size. At our core, our goal is to design, engineer, test, and deliver the solution you've always needed, whether you're a small business or a fortune 500 company shipping around the world.
When it comes to any automation project, your success relies on your ability to quickly, efficiently, and flexibly accommodate the many parts and components at play. Fortunately, that's where we excel.
For years, we have specialized in developing effective tray handling solutions that enable multi-stage inter-machine buffering, tray stacking, de-nesting, loading, unloading and more. For every part of the production line, our tray handling systems are engineered to seamlessly integrate with your automation system. No matter how large your operation, we're confident a Wrabacon tray handling system will make a difference for your business.
Tray Handling System Features
Wrabacon tray handling systems are catered to your application and focused on drastically improving your operation. Key features for standard tray handling systems include:
Short cycle times
Horizontal and vertical stacking
Tray loading and unloading
Food-grade tray handling equipment
Modular design
Versatile, Modular, Creative
The Essential Qualities of a Successful System
Versatile
Wrabacon tray handlers are engineered to make your process more efficient and effective. Standard tray handling systems can be used to transfer parts and products of varying sizes and materials throughout your automation process. We understand that your operation is constantly changing. With that in mind, we design every tray handler with versatility in mind. Need more floor space? No problem. Our vertical stacking systems are capable of handling a wide range of pallet sizes will helping you make the most of your space. If space isn't an issue, our horizontal systems can be customized to suit your needs perfectly.
Modular
Every tray handling system by Wrabacon allows for fast and easy loading of parts and components in a number of sizes. On top of this, tray loading, unloading, nesting, and de-nesting systems can be seamlessly integrated with another of additional systems to help build the ideal automation system for your applications.
Creative
At Wrabacon, it's not just about automation; it's about creative automation engineered to help you succeed. A tray handling system designed and implemented by Wrabacon gives you a cost effective solution designed specifically for your application -- no matter how complex.