Tray Denesters
Tray, Container and Tote Denesters
---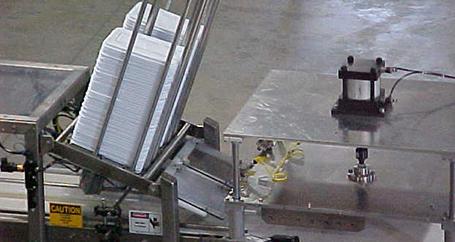 ---
SEE HOW WE MADE IT HAPPEN
Explore Our Case Studies
---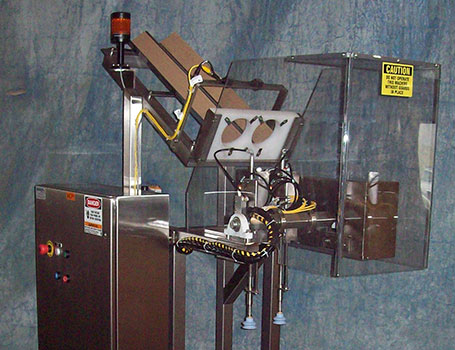 Built to Suit your Production Environment
The Tray Denesters manufactured by Wrabacon provide an efficient method of dispensing trays into a production line. With a Wrabacon system, trays of virtually any size or shape can be denested.
As with all of our automation systems, tray denesters are manufactured and assembled to suit your specific application and are available in a variety of materials.
Many of our denesters tend to be stainless steel, in order to accommodate the wash-down requirements of the food and beverage industry. Tray compositions typically include plastic, foam, and paperboard.
Tray Denesters Features and Benefits
Most sizes and shapes of trays can be denested
Denesters can be manufactured in a variety of materials
Stainless steel denesters meet wash down requirements for food industry
Tray compositions include plastic, foam, and paper board
For operations of all sizes.
Denesting systems take many shapes and sizes, but our constant focus is to increase your capabilities with a cost effective system that makes a difference for your company.
For example, when one internationally known fruit processor and packager required new equipment for pail handling, they turned to Wrabacon, Inc. for a cost effective solution.
Wrabacon designed and built a cost competitive pail denester to denest pails at a rate of 28-30 pails per minute. Along with its denesting capabilities, the system was designed to allow 12-15 minutes of accumulation of stacked pails, allowing the company to increase productivity and throughput.
For more information on denesting systems please don't hesitate to contact Wrabacon today.
Tray Denester Video
Wrabacon Tray Denester Systems for Industrial Automation
Twin Magazine Tray Denester | Wrabacon Inc.
Twin magazine tray denester at a rate of 40 trays per minute with adjustable magazine which allows for quick change over for additional size a shaped trays.