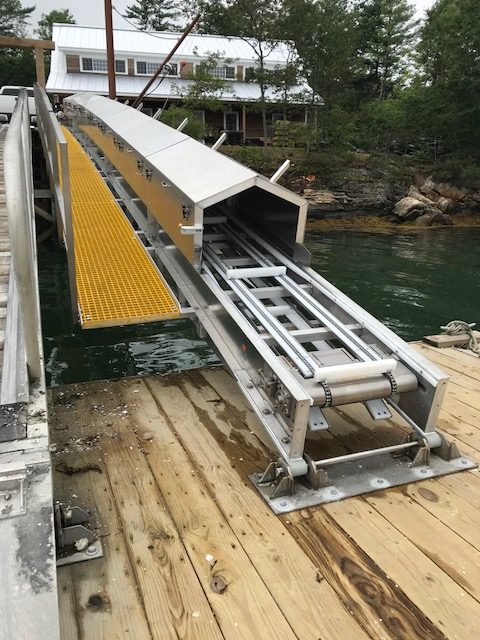 New England farmed oysters are becoming a major market for fisherman who are dealing with the loss of species in local waters. In fact, New England waters are the perfect environment for the growing and harvesting of farmed oysters.
A prominent aquaculture farm contacted Wrabacon Inc. to design and build 3 special conveyors to transport 80 pound wire mesh crates from a dock, up an incline, to an existing pier and then up a second incline where they will be manually removed, palletized and moved via fork truck to the refrigerated warehouse.
The conveyor from the pier to the dock was manufactured with a special pivot point on the upper end to allow the conveyor to pivot up and down with the dock with the rise and fall of the tides.  Included in the design and manufacture of the conveyor are covers over the conveyor along with a 24 inch walk way parallel to the conveyor. The conveyor measured 50 feet long by 30 inches wide with a special stainless steel attachment chain with 2 inch tall lugs attached every 48 inches.
The second and third conveyors are designed to transport the crates to the palletizing area. Both conveyors are built in heavy duty aluminum and measured 21 feet and 25 feet, respectively.
All three conveyors had their own stainless steel cabinet with variable speed drives.