The Challenge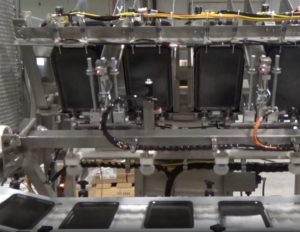 Who doesn't enjoy fresh corn? Easy to cook, affordable, and delicious, corn is an American institution: whether it's being grilled for an Independence Day barbeque or served beside the Thanksgiving turkey, it's a wholesome part of the nation's identity.
That said, while growing corn is one thing, getting it onto store shelves across the nation — husked, packed, and fresh — is another process entirely. It's not easy. Time is of the essence. Quality is demanded. The machinery itself has to be perfectly timed to match the speed of the human operators who are doing the husking, without missing a beat.
When a regional grocery store chain turned to Wrabacon for help with their corn-packing goals, a custom solution was needed — and Wrabacon delivered.
The Wrabacon Solution
To fix the problem, Wrabacon designed and manufactured a semi-automatic packing line for fresh corn on the cob. This meant developing a tray denester, a tray conveyer, and a corn cob transport conveyer. The corn cobs, husked by human operators, are removed at a rate of about 120 husks per minute, and the trays — which measure 8" by 10" — are filled at an approximate rate of 30 trays.
The process begins when the corn cobs move from an existing conveyer system onto an angled 18" wide conveyer belt. From here, the cobs flow down to the four human operators, sitting on the low side: these operators manually remove the cobs, and place them onto the empty trays that are sitting on the conveyer. From here, a four up tray denester denests the foam trays onto a 180-degree curved conveyor.
Now, to keep things moving efficiently, the conveyer's speed can be set up so that the trays will arrive back-to-back when they reach the operators. The denesting hoppers sit at an approximately 45 degree angle: they are fed from the back, away from the conveyor.
At this point, vacuum cups pick up the trays — four at a time — pivot down, and then place the trays onto the conveyor. The operators manually remove the cobs, just as the trays are passing them, and place four of them into the trays: note, these trays are positioned down the conveyer with the wide edge leading the way.
Once the trays have been loaded, they are transferred to downstream equipment, so further processing may take place.
Wrabacon manufactured and supplied the following equipment for this project:
Four up tray denester
Tray conveyer
18" wide corn cob conveyer
Control system
All components in the system were manufactured in stainless steel, to meet washdown and sanitary requirements.