Vertical Conveyors
Vertical Conveyors Systems from Wrabacon Inc.
---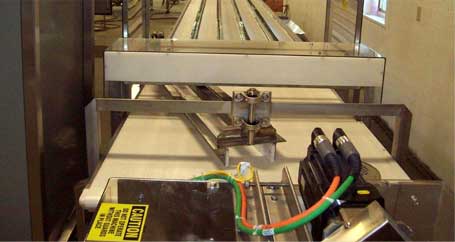 As an experienced provider of custom conveyor systems for clients in industries ranging from the food and beverage to the sporting goods industry, Wrabacon Incorporated has had the opportunity to provide conveyor systems of every size, complexity, and configuration to help our customers meet their production goals. Many times, this involves providing vertical conveyor systems designed for varying applications and environments.
If you need a custom vertical conveyor, we are confident that we can deliver the exact specifications you need to move your product and improve your productivity and efficiency in the process. When your application calls for vertical conveyors, a turnkey solution from Wrabacon provides the ideal solution for your business.
For factories, warehouses, and industrial environments, vertical conveyor systems effectively provide fast, convenient, and incredibly safe access to and from balconies, basements, floors, and mezzanines. Additionally, with our ability to design and manufacture vertical conveyors catered to your facility and applications, systems can be installed for through-floor and interior or exterior applications.
The benefits of a Vertical Conveyor System from Wrabacon:
Safely transport products, parts, or materials from one level to another
Eliminate the need for costly elevators or forklifts
Vertically move loads of widely varying sizes and shapes
Vertical case handling
Vertical package handling
Extremely space-efficient
Move oddly shaped or top-heavy products that can't be moved by incline conveyor
Easily move product to/from key segments of your production line
Vertical Conveyor Systems for Every Facility and Application
Many times, vertical conveyor systems are designed and engineered for applications where our customers benefit from the ability to continuously load and unload product at multiple levels, with the ability to load and unload on as many floors as necessary. Unlike many other manufacturers, the designs available for your vertical conveyor system are unlimited.
If you have a manufacturing facility with 7 levels and a mezzanine, we can design and manufacture a vertical conveyor system that can distribute product throughout the facility. Or, if you're operating in very close quarters, a custom vertical conveyor system could be the ideal solution to give you the effective solution you need while maximizing your space.
Why adapt your processes to a specific vertical conveyor when you can benefit from a system catered to your specific needs instead? To learn more, contact Wrabacon today.