Transfer Conveyors
Transfer Conveyors Systems by Wrabacon
---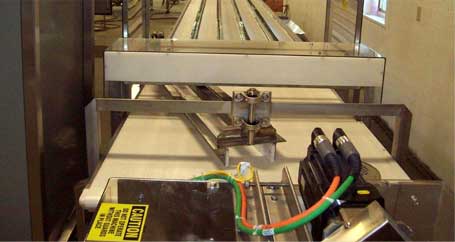 As an experienced designer and manufacturer of high quality automation equipment, Wrabacon frequently provides customers in various industries with the solutions needed to transfer materials wherever they need to go.
Wrabacon has designed and engineered transfer conveyors for all kinds of operations with a constant focus on providing the ideal solution for every client's specific requirements. Whether you need a transfer conveyor that's highly portable, stationary, short, or long - we can provide a design that gets the job done and improves your operation. Some common transfer conveyor configurations include:
Chain transfer conveyors: Many times, solutions like chain transfer conveyors are used to transfer products or pallets of product in 90-degree right angles, perpendicular to the movement of the main conveyor system. This is frequently needed by many customers to more effectively distribute product down multiple lanes for packaging, accumulation, and a number of other processes.
Belt transfer conveyors: powered belt transfer conveyors are an ideal solution when you have smaller products that need to be safely, quickly, and consistently transferred from one conveyor to another. With belt transfer conveyors from Wrabacon, you benefit from our ability to provide a wide range of belts to suit your product and application.
Roller transfer conveyors: roller transfer conveyors are another economical and effective option when you need to smoothly transfer relatively flat parts or boxes from one conveyor to another, or to an accumulation table. Roller transfer conveyors are available in powered and gravity fed varieties.
Dead plate transfer conveyors: dead plate transfer conveyors are designed to smoothly transfer larger products or containers from conveyor to conveyor.
The Right Transfer Conveyors for Your Application
Whether you need one of the more common types of transfer conveyor or a custom solution catered to specific aspects of your production line, it's not a problem. Our goal is to engineer the ideal solution to make the transfer of any product more seamless, fast, reliable, and effective. In the past, we've designed and manufactured several styles of transfer conveyor to suit various customer specifications. Whether you're working with printed circuit boards or food and beverages, we're confident that we can provide the perfect transfer conveyor solution for your business.
Wrabacon transfer conveyors minimize the gap between one conveyor to another to eliminate product damage and system delays
Transfer conveyors provide energy efficient operation with variable (or single) speed motors
All transfer conveyors are available in custom sizes and lengths
Conveyors can be manufactured to meet all USDA, FDA, and BISC standards
Available in stainless steel or mild steel
Available with belts in varying sizes, configurations, and materials
Available with various custom specifications to accommodate your unique applications
At Wrabacon, there's no such thing as too big, too custom or too complex. For more information on transfer conveyors, automation solutions, and custom conveyor designs for your business, contact Wrabacon today.