Servo Merge System
Product Merging
---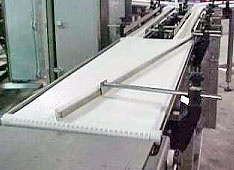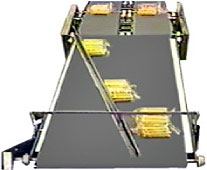 Wrabacon, Inc. designs and manufactures a wide variety of quality and innovative custom product handling systems. These include Product Feeders, Pick and Place Systems, Product Merging, Product Dividers, Product Stackers and Destackers, Semi-Automatic Case Erectors, Product Accumulators, Container Handling, Tray Stackers, and Conveyors.
Servo Merges
Wrabacon's servo merge does not require any form of gate and release system. Product is not stopped prior to entering the servo merge. The system will also accept product in a random manner. The servo merge system consists of a gap, correction, and merges conveyor sections. The system functions in the following manner:
The gap belts receive product from the existing conveyors and create a gap on the in coming products. A special conveyor controller accepts pulses from an encoder driven by the belt on to which products are merged. This allows the servo drive to monitor the position and velocity of the merge conveyor. The correction conveyor meters products onto the merge conveyor at a velocity and distance interval specified by the user. Products are stopped and accelerated as necessary to maintain the desired spacing.
To control the flow of the product on to the merge conveyor from the four correction conveyors, a merge controller acts as a traffic cop. It determines the sequence in which the correction conveyors release product on to the merge. Also, this controller allows one or more of the input conveyors to be taken off-line while not affecting the throughput of the system. The system will accept incoming product at random speeds and spacing on all of the gap conveyors. Servo merge systems can be built with several incoming lanes.
Servo Merges II PDFDownload Servo Merges II PDF