Product Counter
Product Identification: Fast and Effective Counting
---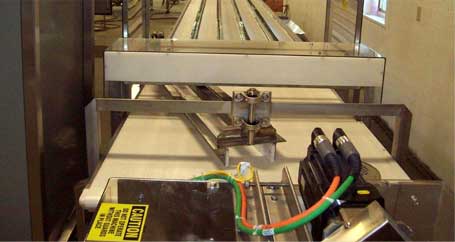 In most production lines for products from pills to soft drinks, sorting and counting are vital steps in the process. When handled effectively, product is counted properly and packaged correctly. However, improper counting can lead to packaging mix-ups, mistakes, and costly delays. With product counters and product identification systems custom designed and engineered by Wrabacon, you ensure that product counting and identification are fast, effective, and reliable.
Applications that benefit from Product Counters include:
Pharmaceutical products
Manufacturing applications
Factory applications
Food and beverage counting
Can counting
Part and component counting and batching
And more...
Using our extensive in-house capabilities and industry experience, our team will design and develop a system that can count your product in any way you require. However, that's not all we can do. If you need your counting system to work with any other automation equipment, no problem. Product counting equipment can easily work with other automation systems to release counted and batched product into a packaging system or move product to another stage of production.
Enhanced accuracy and efficiency: with counting systems from Wrabacon, the accuracy, speed, and reliability you get translates into direct performance increases and savings
Improved production speed: With faster and more reliable counting, your sorting, counting, and packaging all get finished faster. Saving you time and money.
Fewer delays and stoppages: By more effectively counting product and through creative design that takes your specific application into consideration, your counting system encounters fewer delays. This helps things run just a little smoother.
Seamless integration with existing automation systems: Whether you have an existing system you'd simply like to add on to or you're looking for a totally new design, our team will work with you to provide a solution catered to your exact specifications.
The Right Counting Systems for Your Business
It doesn't matter if you're counting your products in unit quantity or weight, we can provide a product counting solution that can help you get the job done faster and more effectively.
For more information on product counting systems from Wrabacon, contact us today to speak to one of our team members.