Plastic Belt Conveyors
Plastic Belt Conveyor Systems from Wrabacon Inc..
---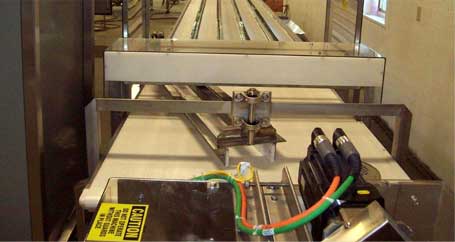 For many years, we've had the pleasure of designing and engineering conveyor systems for clients in just about every industry that can benefit from them. In that time, we've learned a lot about automation systems. One thing we've learned is that in many applications, the resilience of a plastic belt conveyor simply can't be beat.
As a custom designer and manufacturer of plastic belt conveyors, we deliver innovative, efficient, and effective solutions every day to provide customers like you with low cost and energy efficient conveyor systems engineered to give your business the competitive edge you need.
Why Modular Plastic Conveyor Belts?
Modular plastic conveyor belts come with a number of inherent benefits for a number of industries. For over 30 years, modular plastic conveyor belts have steadily grown in popularity due to their ability to eliminate slippage and prevent belt damage. This minimizes the potential for belt failure and product contamination.
Modular plastic conveyor belts are most frequently provided in polypropylene, polyethylene, or Acetal plastics. However, other specialty plastics are available. Depending on your application, the type of plastic used for your conveyor belt will provide the necessary hardness, chemical resistance, temperature resistance, coefficient of friction, and density. If you're unsure of the type of modular plastic conveyor belt you need for your application, we're more than happy to help.
Features and conveyor types frequently provided:
Plastic conveyor systems from Wrabacon can be customized to meet very specific design and functionality requirements. The most commonly requested features and designs include:
Modular plastic belts
Bi-flow systems
Multi line plastic conveyor systems
Incline plastic conveyors
Decline plastic conveyors
Curved plastic conveyors
Table top conveyors
Accumulators
Retracting conveyors
Metal detector conveyors
Plastic conveyors for machine vision systems
Plastic Belt Conveyors for Every Application
Whether you need a single or multi-section system or a system that inclines and curves before reaching an accumulation table, the benefit with Wrabacon Inc. is that you get precisely what you need. Combined with comprehensive service, thorough design, and engineering support, we're positive that the product you receive is the solution you need.
Contact Wrabacon Inc. today to learn how we can help you find the plastic conveyor that meets every one of your specifications.