Pharmaceutical Conveyors
Pharmaceutical Conveyors and Systems by Wrabacon Inc.
---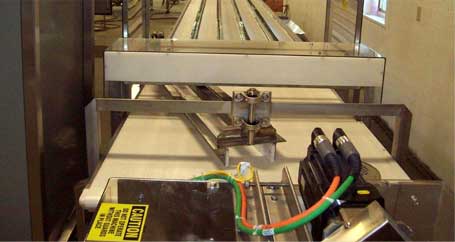 Whether you need a straightforward conveyor system or a creative solution that automates all aspects of your production line, Wrabacon Incorporated is capable of providing the specifications and features needed to improve production and efficiency for all of your pharmaceutical applications.
As a long-time provider of pharmaceutical conveyors, we understand the stringent quality control and sanitation requirements of the industry. With that in mind, our many pharmaceutical conveyor solutions are engineered to be the perfect solution you've been looking for. Applications for pharmaceutical conveyors frequently include:
Tablet pressing
Processing
Bottle filling
Case packing
Blister packaging
Automated inspection
Machine vision systems
And more...
Pharmaceutical Conveyors Improve Productivity for Your Business
In addition to requirements for effective sanitation and quality control, pharmaceutical applications require a high level of accuracy to prevent cross-contamination. The best part about pharmaceutical conveyors from Wrabacon is that we keep all of these factors in mind while also helping your business achieve the higher levels of performance and efficiency than you thought possible.
Whether you're pressed for space or simply looking to boost production with a new automation system, pharmaceutical conveyors from Wrabacon are an effective solution that provide:
Easy Cleaning
Fast changovers
Engineered to eliminate cross contamination
Catered to your application
Have questions about the right pharmaceutical conveyors? We have answers. Whether you need a robust automation system for accumulating, orienting, packaging, and inspecting pills or straightforward solution focused on optimizing production, Wrabacon can help.For more information or to talk to a member of our team, contact us today.