Packaging Automation
Packaging Automation Equipment for Your Production Line
---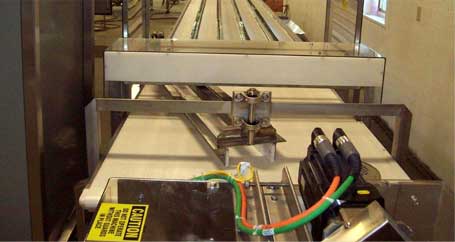 Wrabacon Inc. is an experienced provider of custom packaging conveyors for businesses in every industry hoping to enhance performance by improving their packaging processes.
By custom designing and manufacturing packaging conveyors with short and long term ROI in mind, we've had the opportunity to help businesses across the country improve their businesses drastically. If you need packaging automation equipment that's guaranteed to give your business a new competitive edge, we can help.
The Robust Packing Solutions Your Business Needs
At Wrabacon, we design and manufacture packing conveyors and packaging robotics that are designed to be a comprehensive solution, while still making changeovers extremely easy. Whether you need to do several changeovers in a single day or package one product all year long - our robust and flexible solutions get the job done better than any other packing conveyor.
As always, the best part about packaging equipment from Wrabacon is that custom solutions are our specialty. If your packaging application calls for it, we can deliver. With that said, some of the common packaging lines we've provided include:
Rotary fillers
Overflow fillers
Case packers
Conveyors
Orientation equipment
Package accumulators
Custom case handling systems
Palletizers
Top load robotic packers
Bottom load casepackers
Horizontal casepackers
And more...
Our Packaging Capabilities
Having provided packaging equipment for everyone from Ben and Jerry's and Yankee Candle to numerous industrial businesses, we're well acquainted with the challenges facing a wide variety of industries. Because of this, our capabilities are streamlined to give your packaging equipment every feature and capability needed for your application.
Small part handling and transfer
Delicate part packaging
Incline and decline conveying
Packaging equipment designed for use in industrial environments
Clean room product packaging
Bulk material handling
Food service packaging
Automated packaging for medical and pharmaceutical products
And more...
At Wrabacon, our answer is "Yes". We can deliver on virtually any custom requirement, and deliver packaging automation equipment that will improve your long-term performance and efficiency, all you need to do is ask. To do that, give us a call today.