Material Handling Conveyors
Conveyor Handling: Effective conveyor solutions for you
---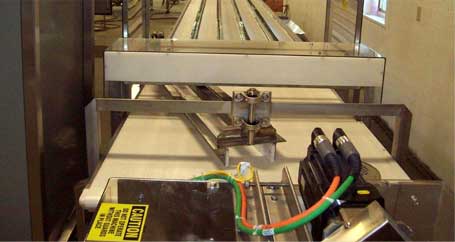 Since 1986, Wrabacon Inc. has provided businesses everywhere with the creative solutions they need when it comes to effective material handling conveyors and process automation equipment.
From material handling conveyors for the food and beverage industries to equipment for consumer product inspection and quality control, the variety of conveyor systems we design is only matched by the design possibilities available to our many customers. With that said, if you need conveyor handling systems, it's not a question of "can we help you?" but a matter of "how" we can help you.
As a custom designer and manufacturer of quality material handling conveyors, we're confident that there are very few applications we can't design a system for. We have the experience and state-of-the-art equipment necessary to design, develop, and manufacture a material handling conveyor that's perfectly suited for your business.
The Benefits of a Custom Designed Material Handling Conveyor
Increased production speed
Improved efficiency
Reduced stoppages and delays
Less lost product
Faster, easier, and more effective sanitizing
Designs that meet all required regulations
Material Handling Conveyor Features:
Customers in market sectors such as food, beverage, pharmaceutical, sporting goods, and consumer products have so many different production scenarios and product types that it's nearly impossible to design a "standard" system for any one application. This is why custom material handling conveyors can be a serious advantage for businesses looking to streamline their production, assembly, or packaging processes.
Frequently requested features from clients in every industry include:
Belt tip ups
Cleated and non cleated belts
Composite bearings
Conveyors designed for USDA, FDA, and BISC standards
Curved conveyor sections
Designs focused on simple and effective sanitizing
Designs to easily accommodate multiple changeovers
Designs to minimize cross-product contamination
Lift gates
Multiple belt options, including stainless and modular plastic varieties
Non welded standoffs
Open bed designs
Pneumatic valves with waterproof enclosures
Quick release tensioners
Side cutouts
Stainless sprockets and chains
Stainless steel guards and drain holes
Stainless steel motors
And much more...
For more information on individual features, please visit our PDF library.
How might a custom material handling conveyor help your business? Contact us today to find out.