Manufacturing Automation
Manufacturing Automation Systems from Wrabacon Inc
---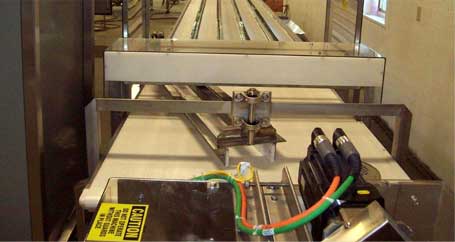 As a long-time provider of custom automation systems for businesses in the manufacturing sector, Wrabacon is very familiar with the challenges you face when it comes to improving production, performance, and efficiency. We understand that in order to compete with domestic and international competition you need manufacturing automation solutions that give you an edge. Fortunately, that's our specialty.
At Wrabacon, we combine years of experience designing and engineering automation systems with a team comprised of talented men and women with direct experience with manufacturing companies like yours. We understand your needs and your challenges, and that's what makes us the best source for your manufacturing automation systems. Examples of systems designed for customers in various industries include:
Robotic electronic assembly systems
Parts handling systems
Robotic material removal
Machine vision systems
Automated conveyor systems
Pick and place systems
Lidding systems
Packaging conveyors
And more...
Custom Manufacturing Automation Solutions for Every Application
At Wrabacon, custom manufacturing automation systems are our forte. Whether your manufacturing automation requirements are simple or remarkably complex, we can design, engineer, and manufacture a system that fulfills your exact requirements.
Manufacturing automation systems for every environment: Whether you need a food grade system or a manufacturing automation system that will have a small footprint in your facility, every solution is designed and manufactured to suit your business perfectly.
Flexible automation systems: All manufacturing automation systems are designed and manufactured with adaptability in mind. If you need to change your system, it shouldn't be hard.
Intelligent design: Your automation system from Wrabacon will be catered to your application and business to make production faster, easier, and more efficient. After all, isn't that what an automation system is supposed to deliver?
Robust systems, comprehensive solutions: Throughout the entire design process, our focus is on providing a system that provides all the functionality you need. This also means that the system will come production-ready, all set to deliver the long-term reliability you count on.
Competitive pricing: A custom solution doesn't have to be prohibitively expensive, and being a viable source for automation systems of every complexity is very important to us. With this in mind, we will make every effort to help you stay within budget with design assistance to lower costs, lean manufacturing, and more.
Don't settle for simply tolerating a system that fails to deliver the performance, reliability, and features your needs call for. Contact Wrabacon today to learn how your business can benefit from a custom manufacturing automation system.