Food Packaging Equipment
Food Packing Machine: Food packaging equipment you need
---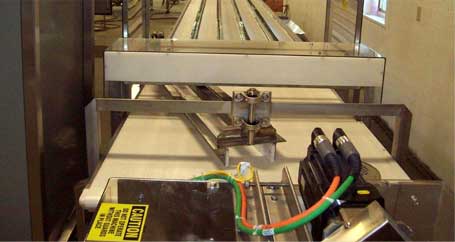 Wrabacon is a premier manufacturer of packaging equipment for the food and beverage industries. However, that's not just something we say to impress our customers. With numerous engineers and programmers with experience in these industries, we combine critical first-hand experience with state-of-the-art equipment to design, develop, and manufacture the food packaging equipment your business needs.
Get More from Food Packaging Machinery
As a provider of custom food packaging equipment, we've had the opportunity to provide numerous clients with the custom equipment they needed, catered to their specific applications. For applications like yours, lost product and delayed packaging can be very costly. With that in mind, it pays to have a packaging solution built for your business instead of one that has simply been adapted to fit your requirements.
With custom food processing conveyors and food packaging machinery from Wrabacon you benefit from:
Increased production speed
Improved efficiency
Reduced stoppages and delays
Less lost, dropped, or broken product
Faster, easier, and more effective sanitizing
Designs that meet all NSF, FDA, and USDA regulations
Food Packaging Equipment Features
Food packaging conveyors and processing equipment from Wrabacon can be designed to fit virtually any facility and application. Common features available include incline and decline conveyors, a wide variety of belt types, variable frequency drives, and more. In addition to the versatility of our custom solutions, Wrabacon is also proud to offer a new category of custom conveyors - EZ Clean Stainless Steel Conveyors. These food industry conveyors feature:
Belt tip ups
Composite bearings
Extremely effective sanitizing features
Non welded standoffs
Open bed design with belt running on plastic strip only
Pneumatic valves mounted in a waterproof enclosure
Quick release tensioners
Side cutouts
Stainless steel guards with drain holes
Stainless steel motors
Stainless steel sprockets and chains
Winsmith Maximize Plus reducers
For more information on individual features, please visit our PDF library.
For More on Food Industry Conveyor Systems from Wrabacon Inc., contact us today.