Food Conveyors
Custom Food Conveyors: Food or beverage systems for you
---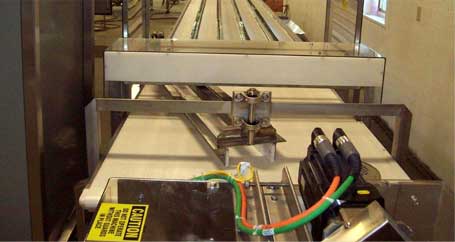 Wrabacon Inc. is a designer and manufacturer of innovative product handling systems. If you need a food conveyor you've come to the right place. Realizing the critical need for high quality food grade packaging and conveyor systems, we've made it our goal to fill our team with engineers and programmers with experience in your industry. This has allowed us to combine our own experience with a deeper understanding of what you need. Ultimately, we believe it helps us provide you with a food packaging system better than any other.
In addition to providing a wide variety of custom conveyors, Wrabacon Inc. is also proud to offer a new bundle of features aimed at providing the essential specifications often required by the food and beverage industry.
Our EZ Clean Stainless Steel Food Conveyors feature:
Belt tip ups
Composite bearings
Extremely effective sanitizing features
Non welded standoffs
Open bed design with belt running on plastic strip only
Pneumatic valves mounted in a waterproof enclosure
Quick release tensioners
Side cutouts
Stainless steel guards with drain holes
Stainless steel motors
Stainless steel sprockets and chains
Winsmith Maximize Plus reducers
For more information on individual features of the EZ Clean line, please visit our
PDF library
.
Food Conveyors For Every Facility
With our knowledge of the common shortcomings in most food conveyor systems as well as our ability to provide custom solutions for even the most complex applications, we guarantee you that the food conveyor you get meets every one of your specifications. Whether you have no real space to spare or an expansive facility suitable for an equally expansive new system, we take pleasure in finding a solution that makes the most of every production environment.
Frequently provided solutions include:
Accumulators
Incline and decline conveyors
Mergers and Diverters
Lidding systems
Inspection systems
Case packers
And more...
For more information on food conveyors, our process, or how we can improve your production line, contact us today.