Automation Systems
Engineering Automation: Helping you reach a new level of productivity
---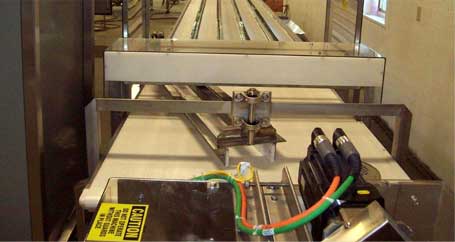 An automation system can make a serious difference in any production environment, but do you find that your business is constantly adjusting for flaws in your automation machinery? A less than perfect automation system means that you're under-performing. This doesn't have to be the case.
Since 1986, we've made it our goal to help businesses reach a new level of productivity and efficiency. Our custom automation systems can drastically decrease production stoppages and delays by carefully considering your application, your operating environment, and every one of your specifications. That means greater efficiency, enhanced performance, and a stronger company.
We've built our team to include specialists from many of the industries we work in, adding an extra level of understanding and expertise to the design process. Industries we frequently work with include:
Food and beverage
Automotive
Sporting Goods
Consumer Products
Pharmaceutical
And Many Others...
Engineering Automation: Designed for Success
Imagine a production, assembly, or inspection line where lost products, breakage, and delays are non-existent. Chances are, if you haven't had a custom automation system designed, these factors are simply a cost of business, a "given". They don't have to be. At Wrabacon, our team of engineers and programmers will study your application and your specifications to deliver the custom designed automation system that will deliver you improved value for years to come.
With our industry expertise and state-of-the-art equipment, the concerns that customers normally have in our industry, are nothing to worry about.
Do you have a shortage of space?: no problem. Many of our solutions are designed with a small-footprint in mind. Whether you need an accumulator or a vertical stacker. If you're pressed for space, we can come up with a creative design that helps you make the most of it.
Is your application complex?: over the years we've had the pleasure of providing a wide variety of solutions ranging from simple accumulators to long and complex assembly lines with very specific design specifications. In any case, we're confident that we can deliver what you need.
Do you need custom part fabrication?: as a provider of custom conveyors and automation equipment, we've grown quite fond of fabricating the perfect component to tie together an entire system. As always, custom is no problem and we take pleasure in coming up with the creative solutions that add value to your system.
There is No Such Thing as "Too Complex"
From inspection machines and vertical accumulators to food grade conveyors and automated packaging equipment, if you need it we can design and build it. If you have any questions about our process, our capabilities, or how we can help you improve production for you - contact us today.