Diverter Systems
Conveyor Diverters: Automating the Work For You
---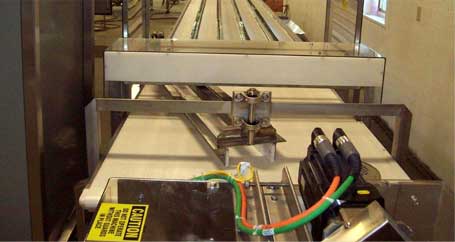 When you rely on a conveyor system to carry any product, you count on it to do so with speed, efficiency, care, and accuracy. At Wrabacon Inc., we've developed our conveyor diverter systems to deliver on all of these requirements, giving you a total product handling system you never have to question.
Conveyor diverters from Wrabacon are an ideal solution for controlling the flow of product while simultaneously moving it to where you need the product to go in your conveyor system. Sample applications vary from diverting a failed product into a "reject" bin, moving it to a new conveyor lane, or carrying it to a new workstation where the product can be labeled, inspected, weighed, sorted, and more.
Wherever you need your products to go, diverter systems from Wrabacon can help you do it faster and more efficiently.
Simple and easy-to-understand controls
Fixed or powered face deflectors to help the product move where it needs to be on the conveyor belt
Various kinds of belts and controls to best suit your individual application
Stainless steel available for packaging, foodservice, clean room applications, and other applications that require a high level of sterility
The Right Diverter Systems for your Material Handling Applications
Diverter systems from Wrabacon are designed and engineered for your specific needs in mind. For every client, regardless of industry or intended application, we manufacture all of our material handling equipment with simple maintenance and long-term quality and performance.
In the past we've supplied diverter systems to clients in virtually every industry that takes advantage of material handling. Applications and environments our diverter systems are frequently found in include wet, dry, frozen, clean room, foodservice, packaging, and dairy.
In every case, whether your "product" consists of thousands of tiny parts or large electronic products, the diverter system you receive is developed for your specific application. In doing so, we take every possible factor into consideration, ensuring that we can help your business achieve a higher level of efficiency, performance, and convenience.
Diverter specifications often feature:
Diverters to handle various package and product sizes
Right or left hand diverters
Diverter systems for various weight capacities
Coated diverters to prevent cosmetic damage to products
1 product diverters
2 product diverters
Automated diverters
Single blade diverters
Basket diverters
Double blade diverters
And more.
When you need faster and more effective material handling, diverter systems from Wrabacon Inc. can help. For more information on how our diverters can help your business, please don't hesitate to contact us today.