Custom Conveyor Systems
Custom Tailored Conveying Systems for Your Business
---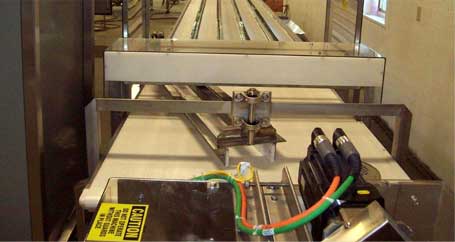 If you're a business that frequently relies on conveyor systems to speed up and automate key parts of your production or assembly line? If you're not using a custom conveyor system - chances are you could be operating at an entirely different level of performance and efficiency.
Since 1984, Wrabacon Inc. has been a full-service provider of custom conveyor systems, designed, developed, and manufactured for the specific applications of our customers in the food, beverage, pharmaceutical, consumer products, and sporting goods industries (among many others).
Varieties of Conveyor Systems Frequently Designed Include:
Automated conveyor systems
Bi-flow accumulators
Case packers
Incline conveyors
Decline conveyors
Machine vision systems
Mergers and diverters
Pick and place systems
Food grade conveyors
Tray stackers
Tray denesters
Vertical accumulators
Multi line systems
Label conveyors
Metal detector conveyors
Bottle orientation conveyors
And many, many more.
For more information on individual features and conveyor types, please visit our PDF library.
Bringing You the Ideal Conveyor System for Your Application
When you choose to have Wrabacon design your custom conveyor system, you don't get a premade system adapted to fit your needs. You get a unique design, developed from the ground up with your needs in mind. This helps you avoid all of the production or assembly line stoppages, delays, dropped products, and system hiccups that you might have worked around or accepted as inevitable with your old system.
If there's a specific issue with your current system, let us know - we'll make sure it's never an issue again. A custom design of conveyor systems by Wrabacon is approached with one primary goal: to provide you with the conveyor system that's catered to your product, your facility, and your exact specifications.
All the Features You Need, None You Don't
Our team is made up of engineers and programmers with experience in many of the industries we provide custom conveyors to. While every business is different, many industries tend to face the same obstacles when it comes to assembly lines and conveyor systems. Because of this, the conveyor you get is designed with your industry in mind to optimize performance for your individual application.
All custom conveyors are available with a full range of modular plastic belts, tabletop chain, wire or synthetic belts depending on the best solution for your needs. Additionally, system controls, automation and PLC programming are designed and implanted in-house by our experienced electrical department.
Do you have questions? We have answers. For more on custom conveyor systems from Wrabacon, contact us today.