Conveyor Manufacturer
The Conveyor Manufacturer That Does It All
---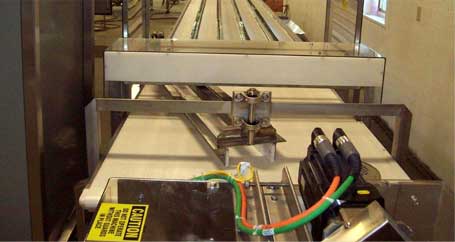 If you need a conveyor machine, you've come to the right place. For many years, Wrabacon has worked to be the go-to source for conveyors suitable for any industry and application. How? Because we have the capability to design custom solutions that meet your precise requirements. We solve problems, we provide solutions, and - ultimately - we deliver the conveyor machines that help improve your business.
How Our Conveyor Lines Work for You
As a company focused on creative custom automation, we've built a team of mechanical engineers, electrical engineers, and programmers with backgrounds in your industry. We have talent from the pharmaceutical industry, the food and beverage industries, consumer products, and everywhere in between. With that breadth of experience, we have the edge we need to provide real solutions to production barriers you face every day. Whether you need to convey, merge, accumulate, label, cap, stack, pick, place, orient, or pack product - we are positive that we can design and manufacture a system that does it fast and efficiently.
To do this, our team of engineers uses advanced equipment and design expertise to put together effective designs for even the most complex projects. After consultation with you, we then move forward onto the fabrication and manufacturing of your custom system.
In order to create a system that meets your exact specifications, we fabricate parts and components from materials including stainless steel, extruded aluminum, painted steel and more. If your application calls for food-grade or medical grade material - no problem.
Finally, we thoroughly test and inspect every single component and piece of equipment before sending it to you. When it all comes together, we guarantee that your system will work exactly as you need it to.
Conveyors for Every Application
When it comes to conveyor systems, the word "custom" can mean a lot, whether it's an inclined conveyor system with S-curves and an accumulation table or an inspection system. Some of the more common conveyor systems we design and manufacture include:
Automated conveyors
Bi-flow conveyors
Case packers
Incline and decline conveyors
Lidding systems
Machine vision systems
Mergers and diverters
Pick and place systems
Rotary tables
Accumulation Tables
Table top conveyors
Tray stackers and denesters
Vertical accumulation systems
EZ-Clean conveyor systems
Food grade conveyors
And more...
To Learn How We Can Help You Improve Your Business with a Custom Conveyor System, Contact Wrabacon Inc. Today.