Conveying Systems
Conveying Equipment: Simple cost saving conveying solutions
---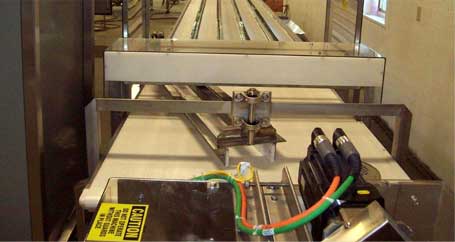 Finding the right conveying equipment doesn't have to be hard. In fact, with conveying solutions from Wrabacon, it doesn't get any easier. That's because we can cater every product to your specific needs. Do you need a curving conveyor with cleated belts, an incline, and accumulation tables? No problem.
We've had the opportunity to provide businesses from virtually every industry with the conveying systems unique to their specific applications. This has helped our clients improve productivity, accuracy, and efficiency with custom systems built to deliver value for years to come. To speak to a representative about a conveyor system for your applications, contact us today.
Custom Conveyor Features:
At Wrabacon Inc., if you require a custom conveyor with precise specifications, that's not a problem, custom is what we do every day. Frequent features in conveying systems for industries across the board include:
Bi-flow conveyors
Cleated belts
Composite bearings
Denesting conveyers
Food grade conveyors
Inclines and declines
Modular belts
Non welded standoffs
Pick and place systems
Pneumatic valves in waterproof enclosures
S-curve conveyors
Side cutouts
Stainless steel guards with drain holes
Stainless steel motors
Stainless steel sprockets and chains
Vision systems
Wash-down conveyors
and more...
The Conveying Solutions You've Been Looking for
Every business wants to be more effective and efficient, but Wrabacon can actually make it happen with the best possible conveying solutions for your application and your facility. To learn more about how we can help, please don't hesitate to contact us today.