Bottle Conveyors
When You Need Fast and Reliable Bottle Conveyors, We Can Help
---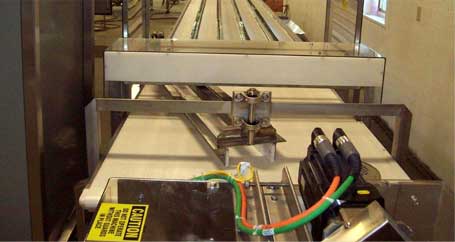 Over the years, Wrabacon Inc., has had the opportunity to develop a wide variety of bottle conveyor systems to accommodate all shapes and sizes of bottles in every stage of the production process.
When you need total-control, maximum efficiency, and less damaged or dropped bottles, a custom bottle conveyor system from Wrabacon Inc. can help. For every customer, we design and manufacture bottle conveyor systems to make your business more effective. From being easier for your team to clean, to more effectively and accurately handling your product, Wrabacon bottle conveyors are designed with ease in mind, in every way conceivable.
Features available for bottle conveyor systems vary widely depending on your needs. As always, no two applications are the same. Whether you're bottling beer or hair care products, our specialty is in developing the custom bottle conveyor systems that suit the unique needs of your business.
Bottle Conveyor Systems Features often include:
Bottle conveyors for commonly shaped and irregular bottles
Bottle conveyors for unstable bottles
Bottle accumulators
Modular bottle conveyor systems
Adjustable guardrails
Bottle orientation systems
Container separators
Low speed to high-speed systems
Bi-flow bottle accumulators
Single and multi-lane bottle conveyor systems
For more information on individual features, please visit our PDF library.
Bottle Conveyor Systems and the Wrabacon Advantage
As a designer and manufacturer of automated conveyor systems for businesses and industries across the country, we've had the distinct opportunity to develop a solution for even the most challenging automation and material handling applications.
From the moment we receive your specifications our team is hard at work designing the most efficient, productive, and reliable system for your needs. With years of experience in the industry, we know what works and we know what doesn't. We're also very experienced when it comes to a number of system optimizations that will increase performance while saving you time and money.
With a wide variety of belt types as well as both bottle orientation and bottle accumulator functionality, we're positive that your bottle conveyor system will meet every need. As an added benefit, all system controls, PLC programming, and automation equipment are designed and installed in-house by our own electrical team. On an aesthetic level, we can also provide various steel, fiberglass, or stainless steel cabinets for your bottle conveyor system.
For more information on the ideal bottle conveyor system for your business, contact Wrabacon Inc. today.