Belt Conveyors
Belted Conveyors: Application specific conveyors for you
---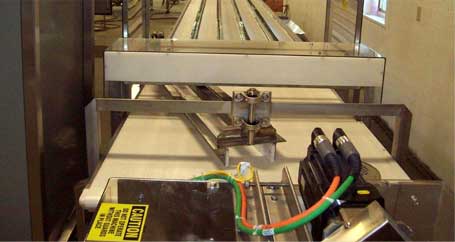 If you're looking for a belt conveyor solution that suits your needs, you've found it - not because we've developed a catch-all conveyor that simply works for a wide variety of industries and applications, but because Wrabacon has designed and manufactured application-specific belt conveyors for years, giving you everything you need and nothing you don't.
The continuously fast and smooth movement of a conveyor belt will give your applications the enhanced level of speed and reliability you need to significantly improve the efficiency of product handling in virtually any industry. Combined with the wide variety of specifications available, we're confident that we can provide the belt conveyor system with every specification required to improve your operation.
In the past, we've had the opportunity to design and manufacture belt conveyor systems for applications including:
Small part handling and transfer
Delicate part handling
Accumulation
Incline conveying
Clean room product handling
Inspection lines
Bulk material handling
Food service handling
Medical and pharmaceutical product handling
Expert Belt Conveyor Design, Testing, and Service
With years of experience as a belt conveyor supplier for industries ranging from food and beverage to pharmaceutical, we know that every business is different and offer every subtle design feature to make the specifications of your belt conveyor ideal for your needs. Features available and types of belt conveyor systems include
Aluminum frame conveyors
Belt Conveyors with 90º pushers
Custom automatic conveyor systems
Custom closures
EZ clean belt conveyors
Incline belt conveyors
Label conveyors
Low profile conveyors
Magnetic conveyors
Metal detector belt conveyors
Portable conveyors
Retracting belt conveyors
Rough top or cleated belt conveyors
Steel frame conveyors
Vacuum conveyors
Z-frame conveyors
and more...
For more information on individual features, please visit our PDF library.
With belts in materials ranging from stainless steel to modular plastic, rough top or cleated belts, and bi-directional and complex conveyor belt designs, we've had the opportunity to deliver belt conveyors with a seriously diverse variety of configurations.
Whether you need to integrate a new conveyor into an existing production line or build a whole new system, we can help. With our experience with product handling systems, assembly systems, product feeders, pick and place systems, product merging, product dividing, product stacking, case erecting, product accumulating, container handling, and basic material conveying systems, your business and your product are in good hands with Wrabacon.
For more information on belt conveyors and custom solutions, please don't hesitate to contact us today.