Automation Conveyor Systems
Automation Conveyor Systems: Increase your productivity
---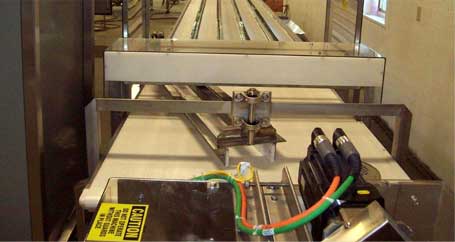 The automation conveyor has revolutionized industries around the world, and the technology driving automatic conveyor systems continues to help businesses increase productivity, efficiency, and accuracy. Knowing this, is your business making the most of what automation conveyor systems have to offer?
You know your needs best. So why should your automation conveyor dictate the way your production line operates? Whether you need a straight, curved, inclined, or declined conveyor system - we have manufactured automatic conveyor systems for an extensive number of industries and applications.
Common applications for Custom Automatic Conveyors include:
Beverage plants
Food packing operations
Container manufacturing
Consumer goods manufacturers
Industrial applications
Material handling
Warehousing and distribution
Palletizing
And much more...
All the Features You Need in an Automation Conveyor
At Wrabacon, we're focused on custom designing the automatic conveyor systems created to make your business more effective and profitable. By utilizing a wide variety of unique design features and utilizing years of experience designing automation conveyor systems to suit the specific needs of customers in every industry, we've successfully helped our customers eliminate hard stops and downtime while minimizing errors in production lines of every complexity.
For more information on individual features, please visit our PDF library.
Varieties of automatic conveyor systems designed in our facility include:
EZ clean stainless steel automatic conveyor systems (A new set of features bundled together for food, beverage, and pharmaceutical applications)
Comprehensive product handling and conveyor systems
Custom closure conveyors
Conveyors with 90º pushers
Incline conveyors
Label conveyors
Metal detector conveyors
Pallet roller conveyors
Retracting conveyors
Custom automatic conveyor systems
and more...
All of the automatic conveyor systems designed by Wrabacon are designed to seamlessly integrate with a wide variety of product handling systems, including product feeders, pick and place systems, product dividers, stackers, destackers, case erectors, accumulators, and more. Features in many custom conveyors often include:
Composite bearings
Stainless steel motors
Winsmith Maximizer Plus reducers
Open bed design
Multiple belt options, including stainless, modular, and plastic varieties
Side cutouts
Non welded standoffs
Quick release tensioners
Belt tip ups
Stainless steel guards and drain holes
Pneumatic valves
Waterproof enclosures
Stainless steel compliant for use in the foodservice industry
Stainless sprockets and chains
Curved conveyor sections
And more...
For more information on automation conveyors from Wrabacon Inc. and how we can help your business optimize your production line, please don't hesitate to contact us today.