Automated Packaging Systems
Automated Equipment Systems: Providing the speed you need
---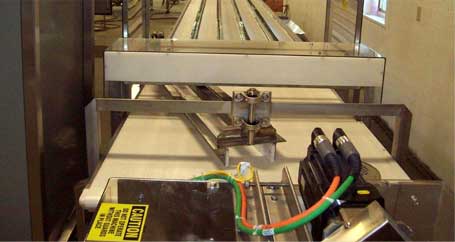 When it comes to automated packaging systems, the ideal solution is one that makes production smoother and more effective. At Wrabacon, we understand that your long-term success ultimately depends on your ability to deliver value to your customers. Without fast, effective, and accurate automated packaging, that can never happen.
By combining extensive experience and innovation with modern equipment, we are capable of providing the integrated automatic packaging systems you need to keep your production high and your costs low.
Wrabacon frequently manufactures vertical and horizontal automatic case packers for virtually any application. Every automatic case packer is designed to be a robust and flexible solution, built to provide reliable performance whether they are handling multiple changeovers a day or an extended production run over the period of several months.
Built to handle RSC and HSC trays and display cases
Tape and hot glue melt sealing systems can be built into each case packer
Automatic case packers are designed for either intermittent or continuous flow of product
Servo motor controlled
Case packers are ideal for automatic packaging with limited space
Designed with an integral case erector or designed for use with an existing erector
Automatic case packers require minimal upkeep and operator supervision
Automatic Case Packers for Every Industry
No matter what you're packing, horizontal and vertical case packers from Wrabacon help you maintain production from low to intermediate speeds with a higher degree of accuracy and efficiency.
For years, we've created automatic case packing systems that have filled bottles, boxes, jars, and cans according to every customer's exact specifications - no matter how complex.
From design and installation to ongoing support and service, our goal is to provide the full-featured automatic packaging system your business needs, because your success means we succeeded.
For more information on automatic packaging equipment, please don't hesitate to contact us today.