Assembly Conveyors
Assembly Automation: Equipment You Can Count On
---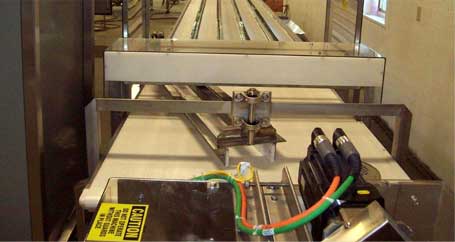 As an experienced provider of automated assembly systems, when you come to us with virtually any application in mind, we're confident that we can provide the assembly conveyor your business needs. For years, we've made a point to design conveyor systems that help businesses in a variety of markets improve productivity, lower costs, and improve performance.
Every assembly conveyor from Wrabacon is designed to make operation and cleaning easy. Depending on your industry, we can also design your automated assembly equipment to meet all USDA, FDA, and BISC standards. Regardless of complexity, from single conveyors to multiple custom conveyors, if you require assembly line automation - we can help.
Assembly Conveyor: The Features Needed For Virtually Every Industry
Full-featured product handling conveyor systems
Mild steel, stainless steel, and painted steel conveyors
Comprehensive range of modular plastic belts, synthetic belts, and tabletop chain to best suit your applications.
Fiberglass and stainless steel cabinets are available for conveyor systems that require them
The Variety of Automated Assembly Equipment You Need
Your assembly line conveyor is one of the most important aspects of your operation because it is responsible for delivering your product throughout the entire production line. With that in mind, your assembly conveyor system should be fast, effective, and accurate. Fortunately, with the vast array of specifications Wrabacon can offer, we're confident that we can design the automated assembly equipment that meets your needs and improves your business.
If we've learned anything in our time in business, it's that no two applications are exactly the same. As a custom designer of automated assembly equipment, our goal is to be your one-stop source for automated assembly line conveyors. To do that, we work to provide the precise specifications you need, with available configurations including incline conveyors, curved conveyors, multi-lane conveyors, overhead conveyors, mergers and diverters, pick and place systems, table top conveyors, and virtually any other configuration.
If you need a faster more effective assembly line, Wrabacon can help. To learn more or to request a quote, please don't hesitate to contact us today.